Flat Stanley's Worldwide Adventures #14: On a Mission for Her Majesty (Paperback)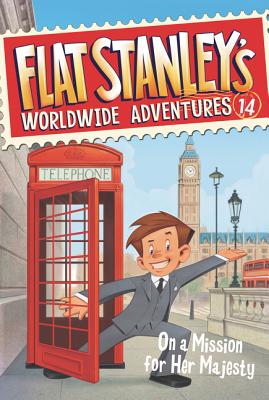 Description
---
Flat Stanley is taking over the world, one city at a time! In this exciting fourteenth book in the renowned Flat Stanley's Worldwide Adventures chapter book series, the Lambchops are going on a royal adventure in London, England!

Stanley and his family receive an unexpected phone call from Scotland Yard. Stanley has been invited to London to help with a top-secret case. One of the crown jewels was stolen years ago. The Queen has long suspected Lady Laura, her distant cousin, of the theft, and Lady Laura will be in London to attend a formal ball at Buckingham Palace. If she has the jewel, this will be the perfect time to wear it. And that's where Stanley comes in.
This unforgettable adventure features fun, fascinating facts about London! And for parents and teachers, each Flat Stanley book is aligned to the Common Core State Standards, like multicultural adventure, plot and character development story elements, and compare and contrast! Don't miss any of Flat Stanley's worldwide adventures!
About the Author
---
Jeff Brown created the beloved character of Flat Stanley as a bedtime story for his sons. He has written other outrageous books about the Lambchop family, including Flat Stanley, Stanley and the Magic Lamp, Invisible Stanley, Stanley's Christmas Adventure, Stanley in Space, and Stanley, Flat Again! You can learn more about Jeff Brown and Flat Stanley at www.flatstanleybooks.com.
Macky Pamintuan is an accomplished artist who lives in the Philippines with his wife, Aymone; their baby girl, Alison; and a West Highland white terrier named Winter.