Little Faith: A Novel (Paperback)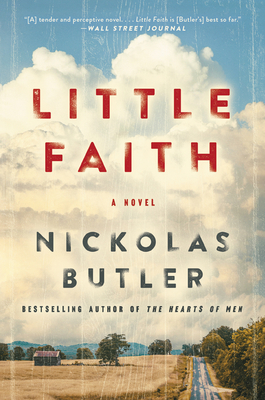 Staff Reviews
---
Nickolas Butler's books just get better and better! Little Faith is a moving story about a little boy, his grandparents, and his mother, who gets pulled into a cult-like church.  Lyle is a particularly memorable character.
— Carol
March 2019 Indie Next List
---
"I loved this story about friendship, family, and how faith influences life-changing decisions. Nickolas Butler beautifully captures the people, landscape, and seasons of northern Wisconsin over a 12-month period. The characters and their relationships to each other is what this book is really about. You will love or hate them, but you will feel part of this community when you finish."
— Susan Murphy, Pages Bookshop, Detroit, MI
Description
---
In this moving new novel from celebrated author Nickolas Butler, a Wisconsin family grapples with the power and limitations of faith when one of their own falls under the influence of a radical church 

Lyle Hovde is at the onset of his golden years, living a mostly content life in rural Wisconsin with his wife, Peg, daughter, Shiloh, and six-year old grandson, Isaac. After a troubled adolescence and subsequent estrangement from her parents, Shiloh has finally come home. But while Lyle is thrilled to have his whole family reunited, he's also uneasy: in Shiloh's absence, she has become deeply involved with an extremist church, and the devout pastor courting her is convinced Isaac has the spiritual ability to heal the sick.
While reckoning with his own faith—or lack thereof—Lyle soon finds himself torn between his unease about the church and his desire to keep his daughter and grandson in his life. But when the church's radical belief system threatens Isaac's safety, Lyle is forced to make a decision from which the family may not recover.  
Set over the course of one year and beautifully evoking the change of seasons, Little Faith is a powerful and deeply affecting intergenerational novel about family and community, the ways in which belief is both formed and shaken, and the lengths we go to protect our own.
About the Author
---
Nickolas Butler was born in Allentown, Pennsylvania, and raised in Eau Claire, Wisconsin. He is a graduate of the University of Wisconsin–Madison as well as the Iowa Writers' Workshop, and the author of the novel The Hearts of Men, the internationally bestselling and prizewinning novel Shotgun Lovesongs, and the acclaimed short story collection Beneath the Bonfire. He lives in Wisconsin with his wife and their two children.
Praise For…
---
"[A] tender and perceptive novel.... An open-minded inquiry into the nature of religious belief, in both its zealous and low-key forms.... "Little Faith" is [Butler's] best so far, unafraid of sentiment yet free of the kitsch." — Wall Street Journal
"With its focus on spirituality and reverence for the joys of everyday life, 'Little Faith' calls to mind Marilynne Robinson's 'Gilead.'" — New York Times Book Review
"[Peopled with] regular folks, behind whose plain-spoken reserve and dry humor beats the heart of the country, at once practical and passionate, poetic and earthbound.... Butler is very good at getting...the routines and rituals as subtly infused with personal history as with the changing of the seasons." — Minneapolis Star Tribune
"Butler blends a sweet situation — a grandfather's love for his grandson — with a divisive religious conflict that could have life-altering consequences for that child.... Butler represents a continuum of believers and doubters." — Milwaukee Journal Sentinel
"A powerful story filled with deep emotion, no matter your religious proclivities.... [A] stark and honest discussion of faith and doubt." — Volume One
"Breathtaking yet devastating.... Butler weaves questions surrounding faith, regret, and whether it's possible to love unconditionally into every page of this potent book.... This is storytelling at its finest." — Publishers Weekly (starred review)
"Powerful.... [Butler] skillfully handles the complicated—and heartbreaking—psychological and emotional complexities of this story, crafting a deeply moving novel about love, faith, and loss.... A beautifully realized meditation on the nature of parenting and living in a perplexing (and often cruel) world." — Library Journal (starred review)
"A heartland novel that evokes the possibility of everyday miracles.... Like a favorite flannel shirt, relaxed and comfortable, well-crafted even as it deals with issues of life and death, faith and doubt.... The novelist loves this land and these characters, with their enduring values." — Kirkus Reviews
"Exploring the complexities of faith and family, Butler...also tackles the power and pitfalls of devout Christianity. Fans of Richard Russo and Jan Karon will appreciate Butler's sense of place, which lets seasonal shifts and harvest cycles propel the novel forward. Little Faith is quietly and deeply moving." — Booklist
"A novel as tender and generous as any I've read. It's a three a.m. I gotta get some sleep but can't stop reading sorta book. Heart stoppingly good." — Willy Vlautin, author of Lean on Pete and Don't Skip Out on Me