Leave the World Behind: A Read with Jenna Pick (Paperback)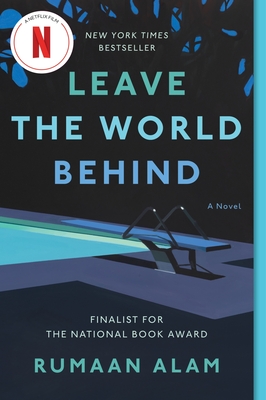 List Price: $18.99
Our Price: $16.99
(Save: $2.00 11%)
Staff Reviews
---
Wow. First, you're reading a satire of an upper middle class Brooklyn family on vacation, then it becomes something else when a couple knocks on the door of their air bnb in the middle of the night, claiming to be the owners, then it becomes something even more disturbing, and you've read all 241 pages without being able to put it down!
Carol
— From
Staff Picks
October 2020 Indie Next List
---
"Eerie and timely, Leave the World Behind will be the next book to talk about. Rumaan Alam is now solidified as a must-read author for me. He lures the reader in with excellent character development as well as family drama when the book takes a sudden turn. Slowly and masterfully, he starts building tension and suspense while teasing the reader with ominous threats in the background. Before you know it, you've stayed up half the night racing to the end of the book. It's a fast read but a powerful book asking important questions."
— Katerina Argyres (OLD RECORD), Bookshop West Portal, San Francisco, CA
Winter 2022 Reading Group Indie Next List
---
"It starts out as an unremarkable family vacation, then slowly, a mounting sense of dread begins to take over. As claustrophobia and confusion grow, you begin to realize, along with the characters, that the world will never be the same..."
— Marisa Neyenhuis, Chapter One Book Store (MT), Hamilton, MT
Description
---
Soon to be a Netflix film starring Julia Roberts, Mahershala Ali, Ethan Hawke, Myha'la, Farrah Mackenzie, Charlie Evans and Kevin Bacon. Written for the Screen and Directed by Sam Esmail. Executive Producers Barack and Michelle Obama, Tonia Davis, Daniel M. Stillman, Nick Krishnamurthy, Rumaan Alam
A Read with Jenna Today Show Book Club Pick!
Finalist for the 2020 National Book Award in Fiction
One of Barack Obama's Summer Reads
A Best Book of the Year From: The Washington Post * Time * NPR * Elle * Esquire * Kirkus * Library Journal * The Chicago Public Library * The New York Public Library * BookPage * The Globe and Mail * EW.com * The LA Times * USA Today * InStyle * The New Yorker * AARP * Publisher's Lunch * LitHub * Book Marks * Electric Literature * Brooklyn Based * The Boston Globe
A magnetic novel about two families, strangers to each other, who are forced together on a long weekend gone terribly wrong.
From the bestselling author of Rich and Pretty comes a suspenseful and provocative novel keenly attuned to the complexities of parenthood, race, and class. Leave the World Behind explores how our closest bonds are reshaped—and unexpected new ones are forged—in moments of crisis.
Amanda and Clay head out to a remote corner of Long Island expecting a vacation: a quiet reprieve from life in New York City, quality time with their teenage son and daughter, and a taste of the good life in the luxurious home they've rented for the week. But a late-night knock on the door breaks the spell. Ruth and G. H. are an older couple—it's their house, and they've arrived in a panic. They bring the news that a sudden blackout has swept the city. But in this rural area—with the TV and internet now down, and no cell phone service—it's hard to know what to believe.
Should Amanda and Clay trust this couple—and vice versa? What happened back in New York? Is the vacation home, isolated from civilization, a truly safe place for their families? And are they safe from one other? 
About the Author
---
Rumaan Alam is the author of the novels Rich and Pretty, That Kind of Mother, and the instant New York Times bestseller Leave the World Behind. His writing has appeared in The New York Times, New York Magazine, The New Yorker, The New York Review of Books, Bookforum, and the New Republic, where he is a contributing editor. He studied writing at Oberlin College and lives in New York with his family.

Praise For…
---
"A slippery and duplicitous marvel of a novel…. Leave the World Behind is atmospheric and prescient: Its rhythms of comedy alternating with shock and despair mimic so much of the rhythms of life right now. That's more than enough to make it a signature novel for this blasted year." — Fresh Air (NPR)
"'Leave the World Behind' is the perfect title for a book that opens with the promise of utopia and travels as far from that dream as our worst fears might take us. It is the rarest of books: a genuine thriller, a brilliant distillation of our anxious age, and a work of high literary merit that deserves a place among the classics of dystopian literature." — Washington Post
"The best book you can read right now . . . A perfectly-engineered thrill ride that is also a novel of ideas, Leave the World Behind combines deft prose, a pitiless view of consumer culture and a few truly shocking moments. . . An exceptional read that will stay with you long after you've sped through its final pages."  — USA Today
"Leave the World Behind is so many things—funny, sharp, insightful about modernity and race and parenthood and home—but at its core it's a story of our shared apocalypse; a steady look at humanity in the moment it tumbles from a great height. I have not been this profoundly unnerved by a science fiction novel since Ishiguro's Never Let Me Go."
— Carmen Maria Machado, author of Her Body and Other Parties
"Leave The World Behind is that rarest of things, a beautifully written, emotionally resonant page-turner. Alam explores complex ideas about privilege and fate with miraculous wit and grace." — Jenny Offill, author of Weather
"Rumaan Alam's Leave the World Behind is the fall's biggest novel." — Entertainment Weekly
"If there's one book that will haunt you in 2020, it's this one….Equal parts literary fiction and suspense, Leave the World Behind is an unsettling, thought-provoking, and disturbing look at both the precarious state of world affairs as well as class and race relations. In a year when anything — including the apocalypse — feels possible, this novel offers a realistic glimpse of how the world as we know it could end, and it will leave you reeling." — Buzzfeed
"Rarely have I encountered a book so cuttingly prescient about the current emotional atmosphere…Alam's deployment of creepy, inexplicable detail is masterful….In some ways, the premise feels like the setup of any number of horror films, but Alam's writing transcends that comparison, and the material with which he's working is actually much more complex…This is a thrilling book—one that will speak to readers who have felt the terror of isolation in these recent, torturous months and one that will simultaneously, as great books do, lift them out of it. This book is going to be, as they say, big." — Vogue
"Perfectly paced, clever and haunting . . . This is one of those stories that inspires a hungry turn of pages, preceded by that desperate and lovely need to come up for air. So easily the best thing I've read all year."  — Kiley Reid, author of Such a Fun Age
"Enthralling….  [Alam's] achievement is to see that his genre's traditional arc, which relies on the idea of aftermath, no longer makes sense. Today, disaster novels call for something different, a recognition that we won't find a new normal." — The New Yorker
"[Alam] is at the top of his game.... One of the eeriest, most disturbing stories I've read in some time.... Alam has not only brought his singular precision and subversive wit to his newest novel, but also has ventured into new, unhinged territory, where the contours of everything might be recognizable, but what's contained within is wholly deranged." — Refinery 29
"The literary suspense of Leave the World Behind hinges on that familiar guilt-tinged longing for a vacation that never ends. . . . [Alam is] gifted with an acidic wit, one he uses to break down contemporary life at the cellular level. His wry observations about the structured chaos of vacation life might go on indefinitely — but then comes a knock at the door. . . . Undeniably haunting." — New York Times Book Review
"[A] propulsive thriller…the book is both prescient and terrifying. Alam is an expert observer of the nuances of class and wealth, and the book is full of provocative, sensual detail, including one delicious page and a half where he lists every single thing his protagonist buys at the grocery store."     — Vulture
"[I]mpossible to put the book down, to look away… Sometimes it takes a gifted storyteller to make us see what our imaginations cannot grasp. 'Leave the World Behind' tells us, with a heart-stopping insistence, that the time to fix what's broken is now." — Los Angeles Times
"Like Stephen King's 1980 novella The Mist, Leave the World Behind expertly illustrates the horror of the unknown, the almost painful humanity we feel when facing down the end and, of course, human nature under duress. During an era of plague, racism, hatred, and division, this tale of a vacation gone awry is terrifyingly prescient." — Rolling Stone
"You should read this book because it makes your skin tingle, like stepping into a deep, dark pool of present-day anxieties." — The New Yorker
"Leave the World Behind isn't only the novel of 2020, it's so alive and intelligent and awake to the world we've built for ourselves, and over which we falsely believe we have control, that it feels more like one of the defining novels of our era." — Interview
"Riveting and claustrophobic, Leave the World Behind invites us to sit with our discomfort and reflect on our own rushed judgments, delivering a dazzling and dark examination of family, race, class, and what matters most when the impossible becomes possible." — Esquire
"Prepare to sleep with the lights on." — Popsugar
"In [Alam's] writing is embodied both beauty and the horror of our daily existence. It's an incredible gift, and one he uses to great effect throughout this novel…. Bearing witness to the range of emotions, the panic, the uncertainty and fear and doubt on a small scale, within this household, provides some comfort. There are no easy answers, but in the midst of uncertainty, we have each other to rely on." — Boston Globe
"You'll remember this book." — Minneapolis Star Tribune
"In Leave the World Behind, readers wonder how Alam predicted our contemporary dystopian anxiety…. With lush details that sink under your skin, this is a novel whose confrontational impact lingers." — New York Observer
"Alam crafts a delicious escape while also reflecting cultural issues beyond what we're seeing in 2020…. Yes, reading a book about the world falling apart while the literal world falls apart feels meta, but Leave the World Behind is also a much-needed, delicious escape." — Shondaland
"I avoided Apocalypse Stories for Months. Then Leave the World Behind Became My Greatest Comfort. . . . I read the book in one sitting, and have thought of it every day since." — Time
"Leave the World Behind is an interesting type of apocalypse examination because it focuses on what happens to those removed from the action. Rather than fully examining the ramifications of this strange new world, it looks at the scars from the old world — race, class — that must be confronted in order for these characters to survive in the new . . . . Leaving the world behind is an illusion, just like a vacation is an illusion. Reality will catch up, and Alam's novel examines what people do differently when it does." — Los Angeles Review of Books
"A suspenseful tale of race, class, and family ties during a time of crisis." — AV Club
"Alam shows an impressive facility for getting into his characters' heads and an enviable empathy for their moral shortcomings, emotional limitations, and failures of imagination. The result is a riveting novel that thrums with suspense yet ultimately offers no easy answers—disappointing those who crave them even as it fittingly reflects our time. Addressing race, risk, retreat, and the ripple effects of a national emergency, Alam's novel is just in time for this moment." — Kirkus Reviews (starred review)
"Spectacular and ominous…. This illuminating social novel offers piercing commentary on race, class and the luxurious mirage of safety, adding up to an all-too-plausible apocalyptic vision.  — Publishers Weekly (starred review)
"Alam brilliantly captures the shift in dynamics between the two families, from apprehension about each other to a collective front against an external entity. The narrative's increasing tempo expertly dives into subtle yet incisive intersections between class and race, since the vacationers are white, and G. H. and Ruth are Black. Alam's novel lobs a series of unsettling questions: How will we react to the next nebulous horror? How will we parent? What will we define as home?" — Booklist (starred review)
"So clever and so subtle that it draws readers into a false sense of security and understanding…. Initially, the book seems to be about a modern marriage and family, priorities and choices, and how one measures success in the 21st century, and it is. But it is also much more…. Perfectly timed for today's uncertain world." — Library Journal
"Leave the World Behind is pitch-perfect in atmosphere, easy to read and deceptive in the high polish of its setting. Alam has crafted a deeply bewitching and disquieting masterpiece." — Shelf Awareness
"The novel that looks to be the breakout hit of the fall, "Leave the World Behind" is a deeply unnerving, gorgeously written thriller." — NJ.com
"This is an exceptional examination of race and class and what the world looks like when it's ending—not at all different from the world we are in now."  — Roxane Gay, author of Hunger
"Rumaan Alam's Leave the World Behind is a canny Trojan horse of a novel, and also a Pandora's Box. Like the family at its center, we're seduced utterly by the bounty and insularity of its world, only to find ourselves, inch by inch, approaching a larger darkness lurking just beyond. With a potent Shirley Jackson energy, it is both eerily timeless and sharply prescient at once, and lingers long after its final page."
— Megan Abbott, author of Give Me Your Hand
"You will want to read Leave the World Behind very quickly, you will want to read it very slowly and savor every word. Rumaan Alam's ingenious, gorgeously written novel feels both like a prophecy and a contemporaneous response to our anxious era, all of it building to a perfect finale." — Laura Lippman, author of Lady in the Lake
"Rumaan Alam's witty, incisive take on the American privileged classes has always been hilarious, but there's a sinister shadow behind the satire in his latest book, as it becomes increasingly tense and unsettling. Alam has achieved a rare feat—a comic novel that is also genuinely terrifying." — Dan Chaon, author of Ill Will
Here in your hands, wrapped in the delicious cloth of suspense, Leave the World Behind begs us to ask the most important questions. How do we let the other in? Where do we draw the borders of home? A prescient book, built for these strange times, sure to entrance and electrify.   — Samantha Hunt, author of The Dark Dark
"Alam has a tremendous talent for bringing the complexities of family tensions to life. In the confined space of a single home, this remarkable novel takes on some of the hardest questions of our time about class, race, and who we become in moments of growing uncertainty. In every eloquent scene, Alam reveals something new about what being a family means in the twenty-first century."  — Idra Novey, author of Those Who Knew
"This novel left me tense, overwhelmed, and bristling with admiration. Rumaan Alam is a brilliant writer, a beautiful prose stylist with an uncanny talent for drawing characters—both their individual quirks and foibles, and the subtle gradations of class and circumstance. In this novel he combines those gifts with absolutely superb pacing and atmospheric control, balancing the comic and the tragic, the real and the surreal, the cynical and the empathetic, the individual and the collective. I'm blown away by this novel." — Lydia Kiesling, author of The Golden State