The Measure: A Read with Jenna Pick (Hardcover)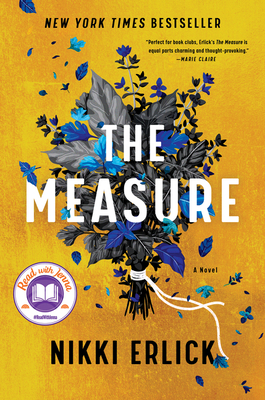 Staff Reviews
---
None of us knows when our time will be up, but this very engaging book explores the world as if we did.  Society's response, from prejudice and distrust, to support and acceptance, leaves you feeling hopeful.
— Bonnie
How would you live your life differently, if you knew how much time you had left? How would that knowledge affect you personally and society as a whole? At times scary and disturbing, but also uplifting and hopeful, this is a great read. Perfect for those who loved The Midnight Library.
Bonnie
— From
Staff Picks
Description
---
INSTANT NEW YORK TIMES BESTSELLER - The Read With Jenna Today Show Book Club Pick!
"A story of love and hope as interweaving characters display: how all moments, big and small, can measure a life. If you want joy, love, romance, and hope—read with us." —Jenna Bush Hager
A luminous, spirit-lifting blockbuster that asks: would you choose to find out the length of your life?
Eight ordinary people. One extraordinary choice.
It seems like any other day. You wake up, pour a cup of coffee, and head out.
But today, when you open your front door, waiting for you is a small wooden box. This box holds your fate inside: the answer to the exact number of years you will live.
From suburban doorsteps to desert tents, every person on every continent receives the same box. In an instant, the world is thrust into a collective frenzy. Where did these boxes come from? What do they mean? Is there truth to what they promise?
As society comes together and pulls apart, everyone faces the same shocking choice: Do they wish to know how long they'll live? And, if so, what will they do with that knowledge?
The Measure charts the dawn of this new world through an unforgettable cast of characters whose decisions and fates interweave with one another: best friends whose dreams are forever entwined, pen pals finding refuge in the unknown, a couple who thought they didn't have to rush, a doctor who cannot save himself, and a politician whose box becomes the powder keg that ultimately changes everything.
Enchanting and deeply uplifting, The Measure is a sweeping, ambitious, and invigorating story about family, friendship, hope, and destiny that encourages us to live life to the fullest.
About the Author
---
Nikki Erlick is a writer and editor whose work has appeared on the websites of New York magazine, Harper's Bazaar, Newsweek, Cosmopolitan, the Huffington Post, Indagare Travel, BookTrib, and the Verge. As a travel writer, she explored nearly a dozen countries on assignment—from rural villages in France to the arctic fjords of Norway. As a ghostwriter, she has lent her voice to CEOs, academics, and entrepreneurs. She graduated Harvard University summa cum laude and is a former editor of the Harvard Crimson. She earned a master's degree in global thought from Columbia University. The Measure is her first novel.
Praise For…
---
"Perfect for book clubs, Erlick's The Measure is equal parts charming and thought-provoking. It takes a philosophical question—what if everybody on earth knew exactly how long they had left to live?—and explores, with compassion and pragmatism, how the implications would trickle down into every area of modern life, from politics to intimacy." — Marie Claire
"So often, high-concept novels are all conceit, no heart, but Nikki Erlick gives us both in spades, a fascinating and timely setup buttressed by a compelling cast of characters finding their hard way through unprecedented times. It makes The Measure a heartfelt parable for our own unprecedented times but also its opposite: a lesson in what doesn't change even when everything else does." — Laurie Frankel, New York Times bestselling author of One Two Three
"What an incredible book! It's truly original with an intriguing premise that's beautifully executed. I loved the fact that it was written from so many POVs, each adding depth and perspective to the overall narrative which made it a rich and satisfying read. I found it gripping, poignant, and intensely thought-provoking." — Ruth Hogan, bestselling author of The Keeper of Lost Things
"A compelling, heart-breaking story of life and love with a perfect, elegant premise." — Bridget Collins, bestselling author of The Binding
"One of the most life-affirming novels I've read in a long while, The Measure is exactly what our world needs right now."
— Christina Dalcher, bestselling author of Vox
"The Measure is utterly original and wonderfully mysterious. Through Erlick's deft prose and clever logic, I threw away all disbelief and fully plunged into the unsettling but life-affirming world she creates." — Jessica Anya Blau, author of Mary Jane
"The Measure is an utterly original and hugely compelling story, which drew me in from the very first page with its beautiful writing. Weeks after reading it, I'm still thinking about this smart, uplifting novel and its wonderful characters." — Freya Sampson, author of The Last Chance Library
"Nikki Erlick has created an irresistible hook about a question that everyone asks but no-one ever wants to answer. With thoughtful and compelling detail, she crafts a strange—and strangely familiar—world full of new moral and political conundrums. And while the novel is full of ideas, The Measure has a strong emotional heart—with an array of characters exploring their frightening, but sometimes beautiful new worlds. Ultimately, The Measure is about the power of human resilience, a new world where people get to choose their own kind of freedom." — Luke Allnutt, author of We Own the Sky
"A brilliant concept cleverly executed. I couldn't stop reading." — Christina Sweeney-Baird, author of The End of Men
"I doubt I will ever use the term 'life-affirming' when describing a novel again. No other book could ever measure up to what Erlick has done with this tender, original and gripping debut. I cannot think of a reader of any genre who would not find something to love in The Measure." — Bookreporter.com