Tomorrow Is Another Country: The Inside Story of South Africa's Road to Change (Paperback)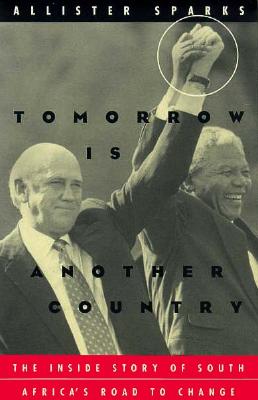 $41.25

We can order this for you!
Description
---
The companion to Allister Sparks's award-winning The Mind of South Africa, this book is an extraordinary account from South Africa's premier journalist of the negotiating process that led to majority rule. Tomorrow is Another Country retells the story of the behind-the-scenes collaborations that started with a meeting between Kobie Coetsee, then minister of justice, and Nelson Mandela in 1985. By 1986, negotiations involved senior government officials, intelligence agents, and the African National Congress. For the next four years, they assembled in places such as a gamepark lodge, the Palace Hotel in Lucerne, Switzerland, a fishing hideaway, and even in a hospital room. All the while, De Klerk's campaign assured white constituents nothing would change. Sparks shows how the key players, who began with little reason to trust one another, developed friendships which would later play a crucial role in South Africa's struggle to end apartheid.

"A gripping, fast-paced, authoritative account of the long and mostly secret negotiations that brought South Africa's bitter conflict to its near-miraculous end. Sparks's description of these talks sometimes brings a lump to one's throat. He shows how the participants' deep mutual suspicion was gradually replaced by excitement at the prospect of making a momentous agreement—and also by the dawning realization that the people on the other side were human beings, perhaps even decent human beings."—Adam Hochschild, New York Times Book Review

"A splendid and original history. . . . Sparks's skillful weaving of myriad strands—Mandela's secret sessions with the committee, the clandestine talks in England between the African National Congress and the government, the back-channel communications between Mandela and the A.N.C. in exile, the trepidation of Botha and the apparent transformation of his successor, De Klerk—possesses the drama and intrigue of a diplomatic whodunit."—Richard Stengel, Time

"Sparks offers many reasons for hope, but the most profound of them is the story this book tells."—Jacob Weisberg, Washington Post

"The most riveting of the many [accounts] that have been published about the end of apartheid."—The Economist
About the Author
---
Allister Sparks (1933-2016) was a prominent South African journalist who, over the course of fifty years, challenged the system of apartheid and criticized the South African government. In 1977 he reported that Steve Biko had been beaten to death by the police. He was the editor of the Sunday Express and the Rand Daily Mail, as well as South Africa correspondent for the Washington Post, Observer, Economist, and Holland's NRC Handelsblad. In 1996 the Media Institute of Southern Africa presented Allister Sparks with its Press Freedom Award.