Canoe Country: The Making of Canada (Paperback)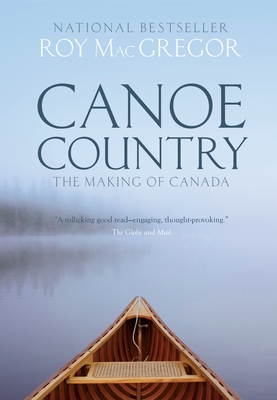 Description
---
One of our favourite chroniclers of all things Canadian presents a rollicking, personal, photo-filled history of the relationship between a country and its canoes.

From the earliest explorers on the Columbia River in BC or the Mattawa in Ontario to a doomed expedition of voyageurs up the Nile to rescue Khartoum; from the author's family roots deep in the Algonquin wilderness to modern families who have canoed across the country (kids and dogs included): Canoe Country is Roy MacGregor's celebration of the essential and enduring love affair Canadians have with our first and still favourite means of getting around. Famous paddlers have been so enchanted with the canoe that one swore God made Canada as the perfect country in which to paddle it. Drawing on MacGregor's own decades spent whenever possible with a paddle in his hand, this is a story of high adventure on white water and the sweetest peace in nature's quietest corners, from the author best able (and most eager) to tell it.
About the Author
---
ROY MACGREGOR is the acclaimed and bestselling author of Home Team: Fathers, Sons and Hockey (shortlisted for the Governor General's Literary Award); A Life in the Bush (winner of the US Rutstrum Award for Best Wilderness Book and the CAA Award for Biography); and bestsellers Northern Light, Canoe Country and Original Highways; as well as two novels, Canoe Lake and The Last Season, and the popular Screech Owls mystery series for young readers. A longtime columnist for the Globe and Mail and numerous other newspapers and magazines, MacGregor won four National Magazine Awards and two National Newspaper Awards. He is an Officer of the Order of Canada, and was described in the citation as one of Canada's "most gifted storytellers."
Praise For…
---
"MacGregor, a talented writer and engaging storyteller, therefore, weaves an impressive tale about the view from a Canadian canoe. . . . He writes majestically. . . . [S]uperb book." —The Washington Times

"[J]ust perfect for the die-hard canoeist." —Ottawa Citizen

"Canoe Country is a rollicking good read—engaging, thought-provoking and, at times, startling in the quirky turns of the research and storytelling, as far as it goes. MacGregor weaves a convincing argument that the canoe is one of Canada's great characters." —James Raffan, The Globe and Mail

"I couldn't put this collection of essays down. . . . [Canoe Country] should be placed on every Canadian's bookshelf." —Explore Magazine 

"MacGregor has developed a reputation as one of Canada's finest storytellers. . . . Never flashy, MacGregor's prose weaves colorful characters into nuanced narratives, often with 'everyman' charm. . . . MacGregor is in fine form. . . . Canoe Country is destined to become classic literature." —Canoe & Kayak Magazine

"Canoe Country is essential reading for any cottager." —Ottawa Magazine
 
"MacGregor is a superb writer, and this book has increased my admiration. . . . Roy MacGregor's Canoe Country is a great book, and he has certainly made the case that the canoe inspired many Canadians to do remarkable things." —The Peterborough Examiner
 
"MacGregor is especially suited to writing a celebration of the canoe. . . . [MacGregor] has his creative fingers on the pulse of our national imagination like few others. . . . McGregor is a compelling storyteller who, like Pierre Berton before him, transforms historical research into high drama, elevating ordinary people who do extraordinary things into admirable folk heroes. I couldn't put Canoe Country down once I started paddling into its narrative rapids." —Rob Reid, Waterloo Region Record
 
"Roy MacGregor, one of Canada's leading writers, has pulled together the history, the legends and personalities linked to this magical watercraft. . . . The result is a book that celebrates our love affair with the canoe and how the vessel shaped Canada in its early years and how it still plays a huge role in defining who we are as a people and in differentiating ourselves from Americans" —Bob Hepburn, Toronto Star
 
"MacGregor is, as he has always been, a compelling storyteller. . . . [Canoe Country] will appeal to those who love the Canadian wilderness and the canoe, but will also be a bit of an eye-opener to those urbanites who have never experienced either." —Edith Cody-Rice, The Millstone
 
"Written by one of Canada's most talented writers, Canoe Country is one of those rare 'must reads.'" —Simcoe.com