The Candy Bombers: The Untold Story of the Berlin Aircraft and America's Finest Hour (Paperback)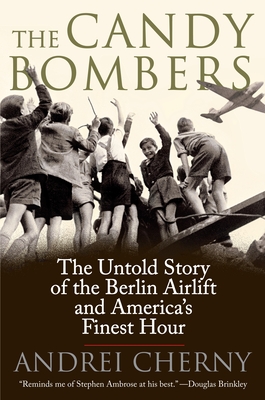 Description
---
In the tradition of the great narrative storytellers, Andrei Cherny recounts the exhilarating saga of the unlikely men who made the Berlin Airlift one of the great military and humanitarian successes of American history.

"What an exciting, inspiring, and wonderfully-written book this is....Each page has lessons for today, and it is also a thrilling narrative to read."—Walter Isaacson, #1 New York Times bestselling author of Steve Jobs

The Candy Bombers is a remarkable story with profound implications for our own time. Cherny tells the tale of the ill-assorted group of castoffs and secondstringers who not only saved millions of desperate people from a dire threat, but also won the hearts of America's defeated enemies, inspired people around the world to believe in America's fundamental goodness, avoided World War III, and won the greatest battle of the Cold War without firing a shot.

With newly unclassified documents, unpublished letters and diaries, and fresh primary interviews, The Candy Bombers takes readers along as American pilots, with only a few small rickety planes, manage to feed and supply West Berlin completely by air for nearly a year; as Harry Truman exploits the very real threat of war to win an upset reelection campaign; as America's first secretary of defense descends into madness in the midst of a dangerous military crisis; and as a lovesick American pilot shows that acts of basic human kindness can send powerful ripples through the course of history.
About the Author
---
Andrei Cherny is best known as a coeditor of Democracy. Cherny spent many years as a White House speech writer before holding his post at Democracy. A fellow at Harvard's Kenny School, Cherny has had a long career writing about global history, politics, and culture for the New York Times, the Washington Post, and the Los Angeles Times. Cherny is the author of The Next Deal. 
Praise For…
---
"What an exciting, inspiring, and wonderfully-written book this is! The dramatic tale of America's response to the Berlin blockade involves a colorful cast of characters, great and flawed, who defined the way a great nation could act as a benevolent world power. Each page has lessons for today, and it is also a thrilling narrative to read. Cherny has produced a book that lives up to this glorious American moment in history."—Walter Isaacson, #1 New York Times Bestselling Author of Steve Jobs and Leonardo Da Vinci
 
"Andrei Cherny's The Candy Bombers is a gripping, suspenseful narrative history about the U.S. Cold War era pilots determined to help the freedom-strangled citizens of West Berlin survive Soviet tyranny. Written with incredible verve and vivid detail, Cherny succeeds in making those harrowing days of Berlin circa 1948-49 come alive. As a historian, he reminds me of Stephen Ambrose at his best."—Douglas Brinkley, New York Times Bestselling Author of The Wilderness Warrior
 
"The early Cold War era was as tense as the days after 9/11. Andrei Cherny captures, in vivid detail, the excitement and drama of the U.S. response to the Soviet blockade of Berlin. You will have a hard time not cheering—or feeling moved—when America rescues its former enemy in the name of freedom."—Evan Thomas, New York Times Bestselling Author of Being Nixon
 
"Absorbing and lucid."—Publishers Weekly
 
"One of the finest narrative histories that I have read in years."—Lawrence Kaplan, World Affairs
 
"The definitive telling of the amazing story of the airlift… Andrei Charny tells this story vividly, placing it on the border canvas of the incipient Cold War."—Michael Barone, U.S. News & World Reports
 
"A fine eye for character and detail."—Bloomberg News