Walking: One Step At a Time (Paperback)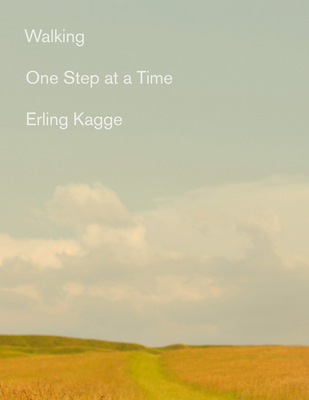 Description
---
A renowned explorer and acclaimed author shows us that walking is a natural accompaniment to creativity—and among the most radical things we can do. "Simple, profound … compelling … [a book that] packs a surprisingly motivational punch" (GQ).

Why do we walk?
Where do we walk from?
What is our destination?
 
Placing one foot in front of the other and embarking on the journey of discovery are activities intrinsic to our nature. But as universal as walking is, each of us will experience it differently. For renowned explorer Erling Kagge, walking is a natural accompaniment to creativity: the occasion for the unspoken dialogue of thinking. Walking is also the antidote to the speed at which we conduct our lives, to our insistence on rushing, on doing everything in a precipitous manner.
About the Author
---
ERLING KAGGE is an explorer, art collector, publisher, and author, and the first person to have completed the Three Poles Challenge on foot—the North Pole, the South Pole, and the summit of Mount Everest. He has written six books on exploration, philosophy, and art collecting, and runs Kagge Forlag, a publishing company based in Oslo, where he lives.
Praise For…
---
"Simple, profound . . . compelling . . . it packs a surprisingly motivational punch . . . Kagge's insights are sharp enough to slowly chip away at your skepticism, like a pickaxe working a block of ice."—GQ

"Beautiful, flowing prose, as wise and soothing as the voice it suggests . . . part rumination, part walking coach and companion . . ."—New York Journal of Books
 
"If ever there were an expert on the topic, behold, here he is . . . Kagge's wisdom offers salve and salvation"—Minneapolis Star Tribune

"Ambitious . . . Mr. Kagge's lean, likeable style holds [Walking] together and makes for an enjoyable whirl of a read."—The Wall Street Journal

"Invigorating . . ."—The Scotsman

"[Kagge] challenges readers to take steps toward a better understanding of one's self and finding a peaceful place in the scheme of life. Recommended for all libraries, especially collections on the environment. The poetic and inspirational words will remind readers of Henry David Thoreau's work by the same name."—Library Journal [starred]

"Candid . . . lyrical and sometimes philosophical . . . His awe and wonder are contagious . . . a perfect companion for those who seek mindfulness and meditation in their everyday lives."—Booklist

"An homage to walking . . . Throughout this brief but eloquent meditation, the author makes a convincing case for the importance of walking. For him, walking is not simply taking a series of steps; it is something thrilling and amazing . . .  A thoughtful book-length essay on a taken-for-granted human activity . . . Fascinating."—Kirkus Reviews

"It is much more subtle than a typical self-help tome . . . he uses his acquaintance with extreme environments to reflect on the mental and physical benefits of walking."—The Economist