Stolen (Paperback)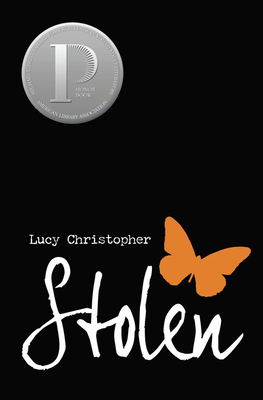 $10.99

We can order this for you!
Autumn 2010 Kids' Next List
---
"When Gemma meets Ty at the airport she senses something familiar about him. He is handsome and charming; she is thrilled by his attention. But after sharing coffee, Gemma starts to feel strange and when she finally wakes up she is a prisoner in a desolate landscape, alone with Ty. His reasons for stealing her are unveiled in this intense and brilliantly written novel for teens. Both hopeful and sinister, Stolen is sure to be remembered by all who read it."
— Holly Frakes, Schuler Books & Music, Okemos, MI
Description
---
Winner of the Michael L. Printz Award
* "An emotionally raw thriller…a haunting account of captivity and the power of relationships." -- Publishers Weekly, starred review
The captivating, disturbing, and heartbreakingly beautiful thriller from award-winning and critically acclaimed author, Lucy Christopher.
A girl: Gemma, 16, at the airport, on her way to a family vacation.
A guy: Ty, rugged, tan, too old, oddly familiar, eyes blue as ice.
She steps away. For just a second. He pays for her drink. And drugs it. They talk. Their hands touch. And before Gemma knows what's happening, Ty takes her. Steals her away. To sand and heat. To emptiness and isolation. To nowhere. And expects her to love him.
Written as a letter from a victim to her captor, Stolen is Gemma's desperate story of survival; of how she has to come to terms with her living nightmare--or die trying to fight it.
About the Author
---
Lucy Christopher's novel STOLEN was named a Printz Honor Book by the ALA and received England's Branford Boase award and Australia's Gold Inky for best debut. In a starred review, PUBLISHERS WEEKLY called it "an emotionally raw thriller...a haunting account of captivity and the power of relationships." She is also the author of FLYAWAY, a novel for younger readers, and THE KILLING WOODS, a novel for young adults. Lucy lives in Monmouth, Wales. Visit her at www.lucychristopher.com and follow her on Twitter @LucyCAuthor.
Praise For…
---
A Michael L. Printz Honor Book
ALA Best Fiction for Young Adults
A 2011 USBBY Outstanding International Book
"Complicated and beautiful -- this novel left me doubting my emotions and missing a place I'd never been." -- Maggie Stiefvater
"All the tension of lightning, all the terror of thunder. A stunning, scary, and beautiful book."-- John Marsden
* "An emotionally raw thriller…a haunting account of captivity and the power of relationships." -- Publishers Weekly, starred review
"Disturbing, heartbreaking, and beautiful all at once." -- School Library Journal
"A complex psychological study that is also a tribute to the hypnotic beauty of the Outback." -- Booklist
"Taut suspense and a riveting plot in a haunting setting." -- Kirkus
"Has a veracity and immediacy that rivets the reader to the page. Fascinating, disturbing..." -- Voice of Youth Advocates
"Complicated and beautiful -- this novel left me doubting my emotions and missing a place I'd never been." -- Maggie Stiefvater
"All the tension of lightning, all the terror of thunder. A stunning, scary, and beautiful book." -- John Marsden
"A vivid new voice for teens." -- Melvin Burgess
TheDailyBeast.com, "10 Hot Young Adult titles" roundup, September 16, 2010
BCCB, review, June 2010
"[A]n interesting book for examining what obsessive Twilight-style approaches to love can mean in a real-life context…Readers who can't get enough of Cormier's classic After the First Death will find this induces both shivers and thought."
Booklist, review, March 15, 2010
"Christopher's first novel is a complex psychological study that is also a tribute to
the hypnotic beauty of the outback."
Kirkus, review, April 15, 2010
"From its compelling opening, the novel delivers taut suspense and a riveting plot in a haunting setting."
Publishers Weekly, starred review, April 12, 2010
"Christopher's debut is an emotionally raw thriller…fast-paced novel…It's a haunting account of captivity and the power of relationships."
School Library Journal, review, June 2010
"Disturbing, heartbreaking, and beautiful all at once, this book is the antithesis of the situational horror in Elizabeth Scott's Living Dead Girl."
VOYA, review, June 2010
"Stolen has a veracity and immediacy that rivets the reader to the page. Vivid descriptions of the Sandy Desert combine with Gemma's emotional turmoil to evoke a sense of danger. This fascinating, disturbing novel should appeal to teens fourteen and older."
A Michael L. Printz Honor BookALA Best Fiction for Young AdultsA 2011 USBBY Outstanding International Book"Complicated and beautiful -- this novel left me doubting my emotions and missing a place I'd never been." -- Maggie Stiefvater"All the tension of lightning, all the terror of thunder. A stunning, scary, and beautiful book."-- John Marsden* "An emotionally raw thriller…a haunting account of captivity and the power of relationships." -- Publishers Weekly, starred review"Disturbing, heartbreaking, and beautiful all at once." -- School Library Journal"A complex psychological study that is also a tribute to the hypnotic beauty of the Outback." -- Booklist"Taut suspense and a riveting plot in a haunting setting." -- Kirkus"Has a veracity and immediacy that rivets the reader to the page. Fascinating, disturbing..." -- Voice of Youth Advocates_____________________________________________________________________________"Complicated and beautiful -- this novel left me doubting my emotions and missing a place I'd never been." -- Maggie Stiefvater"All the tension of lightning, all the terror of thunder. A stunning, scary, and beautiful book." -- John Marsden"A vivid new voice for teens." -- Melvin BurgessTheDailyBeast.com, "10 Hot Young Adult titles" roundup, September 16, 2010BCCB, review, June 2010"[A]n interesting book for examining what obsessive Twilight-style approaches to love can mean in a real-life context…Readers who can't get enough of Cormier's classic After the First Death will find this induces both shivers and thought."Booklist, review, March 15, 2010"Christopher's first novel is a complex psychological study that is also a tribute tothe hypnotic beauty of the outback."Kirkus, review, April 15, 2010"From its compelling opening, the novel delivers taut suspense and a riveting plot in a haunting setting." Publishers Weekly, starred review, April 12, 2010"Christopher's debut is an emotionally raw thriller…fast-paced novel…It's a haunting account of captivity and the power of relationships."School Library Journal, review, June 2010"Disturbing, heartbreaking, and beautiful all at once, this book is the antithesis of the situational horror in Elizabeth Scott's Living Dead Girl."VOYA, review, June 2010"Stolen has a veracity and immediacy that rivets the reader to the page. Vivid descriptions of the Sandy Desert combine with Gemma's emotional turmoil to evoke a sense of danger. This fascinating, disturbing novel should appeal to teens fourteen and older."