Once Upon a River: A Novel (Paperback)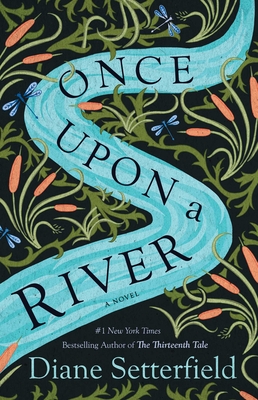 Staff Reviews
---
Sometimes you just want to be told a good story, and this is what the author does with this atmospheric tale of two strangers who almost drown in the Thames on a dark, winter night.
— Carol
December 2018 Indie Next List
---
"Time to settle down for a story. It begins, as good stories should, with the rescue of a pair of strangers on a winter night. Though all is not as it seems in Diane Setterfield's latest, as Once Upon a River quickly delves into a mystery. The young girl was dead when she was pulled from the river, but hours later she begins to breathe. As the story of her revival spreads, more than one member of the village feels mysteriously drawn to her. Could she be their missing child, estranged granddaughter, long-lost sister? Setterfield's work is the closest an adult can come to settling down for story time, and Once Upon a River has the same magic, timeless, and cozy charm of a tale that has been told through the ages. Simply lovely."
— Molly Gillespie, Joseph-Beth Booksellers, Cincinnati, OH
Winter 2019 Reading Group Indie Next List
---
"The Swan, an ancient inn on the Thames River in the town of Radcott, stands at the center of this magical tale full of riveting, complex characters and storylines. The drowned body of a very young girl is brought to the Swan late one night, and she is mysteriously revived. Who is she? Why was she found in the river? How did she come back to life? The marvelous cast of characters who frequent the Swan and live near Radcott speculate and become drawn irresistibly into her story. Absorbing and wonderful!"
— Georgiana Dix Blomberg, Magnolia's Bookstore, Seattle, WA
Description
---
From the instant #1 New York Times bestselling author of the "eerie and fascinating" (USA TODAY) The Thirteenth Tale comes a "swift and entrancing, profound and beautiful" (Madeline Miller, internationally bestselling author of Circe) novel about how we explain the world to ourselves, ourselves to others, and the meaning of our lives in a universe that remains impenetrably mysterious.

On a dark midwinter's night in an ancient inn on the river Thames, an extraordinary event takes place. The regulars are telling stories to while away the dark hours, when the door bursts open on a grievously wounded stranger. In his arms is the lifeless body of a small child. Hours later, the girl stirs, takes a breath and returns to life. Is it a miracle? Is it magic? Or can science provide an explanation? These questions have many answers, some of them quite dark indeed.

Those who dwell on the river bank apply all their ingenuity to solving the puzzle of the girl who died and lived again, yet as the days pass the mystery only deepens. The child herself is mute and unable to answer the essential questions: Who is she? Where did she come from? And to whom does she belong? But answers proliferate nonetheless.

Three families are keen to claim her. A wealthy young mother knows the girl is her kidnapped daughter, missing for two years. A farming family reeling from the discovery of their son's secret liaison stand ready to welcome their granddaughter. The parson's housekeeper, humble and isolated, sees in the child the image of her younger sister. But the return of a lost child is not without complications and no matter how heartbreaking the past losses, no matter how precious the child herself, this girl cannot be everyone's. Each family has mysteries of its own, and many secrets must be revealed before the girl's identity can be known.

Once Upon a River is a glorious tapestry of a book that combines folklore and science, magic and myth. Suspenseful, romantic, and richly atmospheric, this is "a beguiling tale, full of twists and turns like the river at its heart, and just as rich and intriguing" (M.L. Stedman, #1 New York Times bestselling author of The Light Between Oceans).
About the Author
---
Diane Setterfield is the #1 New York Times bestselling author of The Thirteenth Tale, and a former academic, specializing in twentieth-century French literature, particularly the works of Andre Gide. She lives in Oxford, England.
Praise For…
---
"I was completely spellbound by this book. Numerous strands of the same story are skillfully woven into a magical web from which I, as a reader, had no desire to escape. Setterfield's prose is beautiful, dark and eerily atmospheric, and her rich cast of characters convincingly illustrate the best and worst of humanity. Utterly brilliant!"
— Ruth Hogan, internationally bestselling author of THE KEEPER OF LOST THINGS and THE WISDOM OF SALLY RED SHOES

"Once Upon a River is a delight, just marvelous. I devoured it in gulps."
— Jo Baker, internationally bestselling author of LONGBOURN

"Once Upon A River succeeds in doing what you hope every book will do - pull you in from the first page, hold you captive in the middle, then leave you satisfied and thoughtful at the end. I loved it."
— Renee Knight, critically-acclaimed author of DISCLAIMER

"Diane Setterfield has created a true reading experience. Once Upon a River is the story of three missing girls and three desperate families all set against the Thames and woven together with magic, mystery, and mayhem. It is beautiful and heartbreaking and altogether wondrous. Simply put, it is a joy to read."
— Ariel Lawhon, author of I WAS ANASTASIA

"Setterfield fills this richly layered plot with a fascinating cast of memorable characters who weave in and out of each other's lives."
— Booklist

"The heart of the story are the relationships that twist and turn, as if they also follow the river."
— Publishers Weekly (starred review)

"Setterfield masterfully assembles an ensemble of wounded, vulnerable characters who, nevertheless, live by the slimmest margins of hope--hope that springs from family, from the search for meaning, from people's decency to strangers, from the belief that truth heals and sets one free . . . Celebrates the timeless secrets of life, death and imagination--and the enduring power of words. Fans, rejoice!"
— Kirkus Reviews (starred review)

"This probing inquiry into human nature is also spooky fun."
— Vulture, "6 New Books You Should Read This December"

"This enchanting book from the author of The Thirteenth Tale is filled with folklore, romance, suspense."
— Bustle, "The 8 Best Fiction Books Coming Out In December 2018"

"A mosaic of modern folklore."
— InStyle

"A magical, lyrical tale, filled with quests and questions."
— The BBC

"Diane Setterfield weaves a beautiful, suspenseful mystery . . . will keep you engrossed until the very last page."
— PopSugar

"Setterfield's prose feels lifted from another era, a gothic lyricism resembling old classics like Jane Eyre."
— Entertainment Weekly

"Utterly enthralling."
— New York Journal of Books