Hybrid Public Policy Innovations: Contemporary Policy Beyond Ideology (Routledge Studies in Governance and Public Policy) (Hardcover)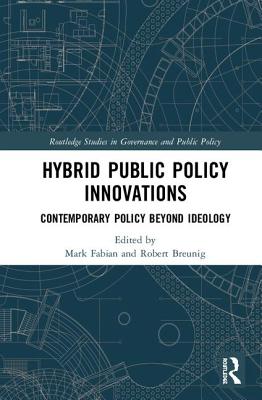 $212.50

We can order this for you!
(This book cannot be returned.)
Description
---
Political discourse in much of the world remains mired in simplistic ideological dichotomies of market fundamentalism for efficiency versus substantial socialism for equity. Contemporary public policy design is far more sophisticated. It blends market, government and community tools to simultaneously achieve both equity and efficiency. Unlike in the twentieth century, this design is increasingly grounded in a deep evidence base derived by way of rigorous empirical techniques. A new paradigm is emerging: hybrid policies.
This volume provides a thorough introduction to this technical side of public policy analysis and development. It demonstrates that it is possible to go beyond ideology, and find there some powerful answers to our most pressing problems. An international team of experts, many of whom have experience with the design or implementation of hybrid policies, helps cover the behavioural, institutional and regulatory theories that inform the choice of policy objectives and lead the initial conception of solutions. They explain the reasons why we need evidence-based public policy and the state-of-the-art empirical techniques involved in its development. And they analyse a range of in-depth case studies from industrial relations to health care to illustrate how hybrids can intermingle the strengths of governments, markets and the community to combat the weaknesses of each and arrive at bipartisan outcomes.
Hybrid Public Policy Innovations is geared to scholars and practitioners of public policy administration and management who desire to understand the analytical reasons why policies are designed the way they are, and the purpose of evidence-gathering frameworks attached to policies at implementation.
About the Author
---
Mark Fabian is a PhD Candidate in Economics at the Crawford School of Public Policy where he teaches economics for public policy and development economics. He conducts research into welfare and sustainable development at the intersection of philosophy and economics. His most recent published work was on long work hours in Australia, and his current projects concern how we can better integrate philosophical and psychological knowledge about happiness and wellbeing into public policy. Robert Breunig is former Director of the Crawford School of Public Policy where he teaches empirical public policy and director of the Tax and Transfer Policy Institute. He is a frequent collaborator with the Australian government. He conducts research in three main areas: applied labour economics, policy impact evaluation and behavioural responses to the tax system. In recent work, he has studied the inter-generational transmission of dependence on government assistance; he has examined the relationship between women's labour supply and childcare policy and studied optimal childcare subsidy policies; he has examined the complex relationship between outsourcing and innovation; and he has estimated taxpayer responsiveness in the Australian tax system.