Wombat, the Reluctant Hero (Hardcover)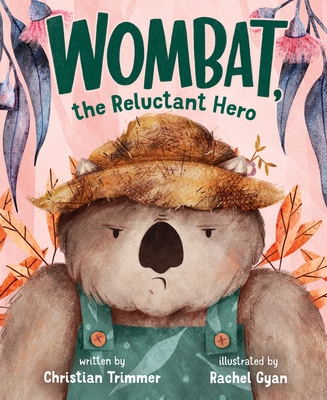 $18.99

Coming Soon - Available for Pre-Order Now
Description
---
Written by Christian Trimmer and illustrated by Rachel Gyan, Wombat, the Reluctant Hero is a story of climate change, community, and heroism, inspired by the 2019 Australia wildfires.

Wombat liked her things just so. Everything had its place, and nothing was out of order.
She couldn't say the same about her neighbors. But that was their business, and Wombat didn't concern herself with others' business.

When a very hot, dry summer causes dangerous fires in their neighborhood, a group of animals are desperate to find water and shelter. But it'll take the quiet heroism of a reluctant wombat to provide resources and a cozy, cool, and safe burrow, demonstrating the true importance of community.
About the Author
---
Christian Trimmer is a children's book writer and editor. He is the author of Simon's New Bed, Teddy's Favorite Toy, and Snow Pony and the Seven Miniature Ponies. He lives with his husband in Brooklyn, New York, and Hillsdale, New York.

Rachel Gyan is a multidisciplinary illustrator based in the Western suburbs of Melbourne, Australia. She is passionate about artful storytelling and known for her Australian fauna and flora illustrations filled with heart-warming characters and whimsical narrative brought to life through texture and vibrant color palettes. Growing up in rural Victoria, Rachel's love for Australian wildlife and animal welfare was apparent from childhood. From the time she could hold a pencil she has been studying and drawing inspiration from animals and their environment to capture their beautiful and sometimes quirky nature in her work. Rachel is the illustrator of Wombat, the Reluctant Hero.