The Second Life of Mirielle West: A Haunting Historical Novel Perfect for Book Clubs (Paperback)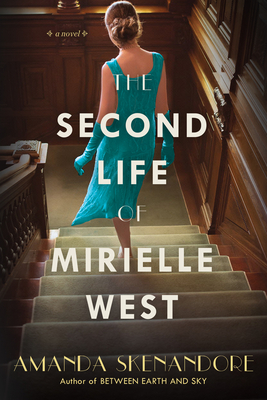 $15.95

We can order this for you!
Description
---
The glamorous world of a silent film star's wife abruptly crumbles when she's forcibly quarantined at the Carville Lepers Home in this page-turning story of courage, resilience, and reinvention set in 1920s Louisiana and Los Angeles. Based on little-known history, this timely book will strike a chord with readers of Fiona Davis, Tracey Lange, and Marie Benedict.

* A 2023 Silicon Valley Reads Selection *
* Reader's Digest Editor's Choice *

For Mirielle West, a 1920's socialite married to a silent film star, the isolation and powerlessness of the Louisiana Leper Home is an unimaginable fall from her intoxicatingly chic life of bootlegged champagne and the star-studded parties of Hollywood's Golden Age. When a doctor notices a pale patch of skin on her hand, she's immediately branded a leper and carted hundreds of miles from home to Carville, taking a new name to spare her family and famous husband the shame that accompanies the disease.

At first she hopes her exile will be brief, but those sent to Carville are more prisoners than patients and their disease has no cure. Instead she must find community and purpose within its walls, struggling to redefine her self-worth while fighting an unchosen fate.

As a registered nurse, Amanda Skenandore's medical background adds layers of detail and authenticity to the experiences of patients and medical professionals at Carville – the isolation, stigma, experimental treatments, and disparate community. A tale of repulsion, resilience, and the Roaring '20s, The Second Life of Mirielle West is also the story of a health crisis in America's past, made all the more poignant by the author's experiences during another, all-too-recent crisis.

"Scrupulous in her research and practically clairvoyant in her choice of urgent subjects — from the Indigenous boarding schools of her first novel to the disease and quarantine of The Second Life of Mirielle West — historical novelist Amanda Skenandore has quietly become one of the valley's finest authors." – The Las Vegas Review Journal
About the Author
---
Amanda Skenandore is a historical fiction writer and registered nurse. Her debut novel, Between Earth and Sky, was the winner of the American Library Association's RUSA Reading List for Best Historical Fiction Novel of the Year. She lives in Las Vegas, Nevada. Visit Amanda Skenandore online at AmandaSkenandore.com.
Praise For…
---
Praise for The Second Life of Mirielle West

"Scrupulous in her research and practically clairvoyant in her choice of urgent subjects — from the Indigenous boarding schools of her first novel to the disease and quarantine of The Second Life of Mirielle West — historical novelist Amanda Skenandore has quietly become one of the valley's finest authors." 
—The Las Vegas Review Journal
 
"Despite being a fictional work, in her book The Second Life of Mirielle West Amanda Skenandore has used her medical background as a registered nurse—and her storytelling skills as a writer—to describe the sorrows experienced by patients with leprosy who were quarantined at the Carville Leper Home, a hospital in Louisiana that used to provide quarantine and treatment services for leprosy in the USA throughout the 20th century."
—The Lancet