Ruby Redfort Look Into My Eyes (Paperback)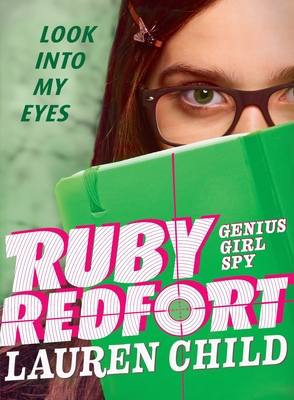 $8.99

We can order this for you!
Other Books in Series
This is book number 1 in the Ruby Redfort series.
kids Kids Indie Next List
---
"Thirteen-year-old Ruby has her own sense of style, loves watching TV detective shows, and just happens to be an expert puzzle solver and code breaker. So far, she has filled 622 yellow notebooks with her keen observations. As the town of Twinford awaits the arrival of a gold bullion shipment and the treasured Jade Buddha of Khotan, Ruby's house is mysteriously emptied of its contents and her housekeeper disappears. A series of cryptic clues soon leads Ruby to a top-secret assignment in this brilliant mystery filled with loads of humor and suspense."
— Joyce Tiber, Next Chapter Bookshop, Mequon, WI
Description
---
"Sardonic narration will grab readers from the get-go, and puzzles laced throughout will intrigue those who share Ruby's passion for solving mysteries." — Publishers Weekly (starred review)

Everyone knows that Clarice Bean is exceptionordinarily keen on the Ruby Redfort books. In her own starring role, Ruby, a genius code-cracker and daring detective, and her sidekick butler, Hitch, work for a secret crime-busting organization called Spectrum. Ruby gets into lots of scrapes with evil villains, but she's always ice-cool in a crisis.
About the Author
---
Praise For…
---
A nice pastiche of the spy genre for younger readers.
—The New York Times

In this funny and action-packed first installment of an adventure series from Child, Ruby (who Child's fans will recognize as her character Clarice Bean's favorite fictional heroine) quickly becomes bored with her first Spectrum assignment, poring over the files of a code-breaking agent who met an untimely demise. With the help of her sidekick/classmate Clancy Crew, she ventures out from her well-hidden office into more dangerous territory... Child's sardonic narration will grab readers from the get-go, and puzzles laced throughout will intrigue those who share Ruby's passion for solving mysteries.
—Publishers Weekly (starred review)

Readers familiar with Child's Clarice Bean chapter books will be delighted to see Clarice's mystery- solving hero, Ruby Redfort, star in her own book, a delightful homage to Louise Fitzhugh's classic HARRIET THE SPY (1964)... This series opener shows much promise, with a swift pace, clever dialogue, and many codes and puzzles scattered throughout. Bold graphics, well-placed chapter breaks, and just enough irony will appeal to middle school readers who grew up with Clarice Bean. Child's light, bright wit is in fine form here.
—Booklist

Smart, savvy, and cool, Ruby Redfort is a modern young heroine adept at holding her own in the adult world. Replete with codes, high-tech spy gadgets, outspoken T-shirts, and plenty of humor, LOOK INTO MY EYES is a fun, if often fantastical, mystery adventure romp with plenty of character and action and will appeal to male and female readers looking to keep their wits sharp while minding Ruby's "Rule 1: You can never be completely sure what might happen next."
—VOYA

She is everything you want a pint-sized detective to be: smart, resourceful, and brave with a clever wisecrack ever at the ready. Mystery fans who have outgrown Clarice Bean will nonetheless join her in her admiration of this mashup of Nancy Drew and Encyclopedia Brown with twists and quirks that are all Ruby's own.
—Bulletin of the Center for Children's Books

Middle school readers are sure to enjoy this exciting, action-packed adventure of super sleuth, 13-year-old Ruby Redfort... A gold heist, special spy gadgets, puzzles, codes, and clues create a plot continually full of surprises. Ruby's a strong spunky female character, full of sarcastic wit and spirit who gives this fun title girl appeal.
—Library Media Connection

The mystery and intrigue, murder and mayhem are presented in a light tone and with a satirical touch sure to make readers laugh. Those familiar with the author's "Clarice Bean" novels may note that Clarice's favorite book character now has her own series.
—School Library Journal

The detective-heroine of RUBY REDFORT LOOK INTO MY EYES may be small for 13, but she's a prodigy: brilliant, tenacious and observant to an almost Sherlockian degree... As Ruby and her best friend, Clancy Crew (no relation to Nancy Drew, surely) dash about following hunches, they're drawn into a whirl of comedy and menace, espionage and cryptograms, naive townspeople and baleful baddies... Ms. Child's appealing wiseacre tone keeps the mood buoyant throughout, even when it looks as if Ruby herself may be . . . toast.
—The Wall Street Journal

Get ready, puzzle lovers! There's a new book on the scene that will satisfy the sleuth in all of us. Author Lauren Child introduces Ruby Redfort, a young code-cracking genius who gets caught up in a great mystery.
—BookPage

Sarcastic and smart, Ruby makes a compelling heroine. RUBY REDFORT LOOK INTO MY EYES is a fast-paced adventure, and budding codebreakers can try cracking the ciphers alongside Ruby. Highly recommended for kids who like mysteries and adventures.
—Baltimore's Child

Ruby's debut is the ideal spytastic summer escapade.
—NW Kids Magazine