More Poachers Caught!: Further Adventures of a Northwoods Game Warden (Paperback)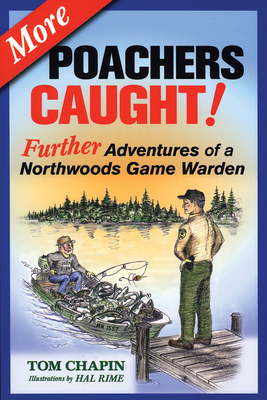 $18.95

We can order this for you!
Description
---
More stories, more action, more foolhardy hunting and fishing poachers
Tom Chapin served as a Minnesota Game Warden for 29 years, a job that was far more perilous and thrilling than most people would ever expect. He was cussed at, chased, shot at, and nearly run over. More Poachers Caught is the follow-up to Tom's wildly popular first book. It collects 30 new stories from throughout Tom's career and from a few of Tom's friends. Dangerous, spontaneous, and sometimes comedic, these true adventures bring readers face to face with the problem of poaching. They are tales of greed, selfishness, and hope. The short stories tell of some of the most memorable poachers who were ever caught by a Northwoods Game Warden--and some who got away. Hunters, anglers, and outdoors enthusiasts of all ages will enjoy this fascinating book.
About the Author
---
Tom Chapin is a native of Hibbing, Minnesota. He earned his bachelor's degree in zoology in 1972 from the University of Minnesota, Duluth, after a two-year tour in the U.S. Army. Most of his 29-year career as a natural resource conservation officer has been spent in the Grand Rapids, Minnesota, district where he also served as area supervisor for seven years. Chief among the honors he has received include the 1978 "Itasca County Law Enforcement Officer of the Year" and the 1985 "Minnesota Conservation Officer of the Year. Chapin has also served as adjunct faculty, teaching law enforcement courses at Itasca and Hibbing Community Colleges. Recently the author's campaigning and testimony prompted the Minnesota State Legislature to enact a gross over-limit law. Known as the "Chapin Bill," this law became effective March 1, 2003. It increases penalties, including the loss of hunting and fishing privileges, for violators who take large quantities of game and fish. Throughout his career as a game warden, Chapin took hundreds of photographs documenting illegal activities. These photos, many of which are included here, were an integral part of Chapin's group presentations which have both educated and entertained audiences interested in natural resources issues. Tom and his wife Sandy raised daughters Colleen, Anita, and Beth in Grand Rapids where he has recently retired from public service.