Found Photos of Yellowstone: Yellowstone's History in Tourist and Employee Photos (Paperback)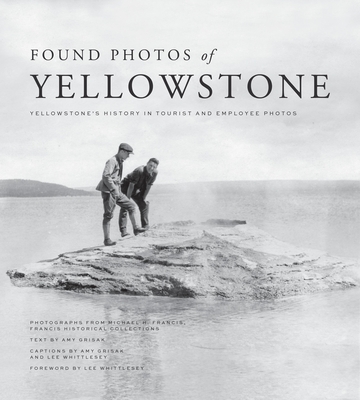 $24.95

We can order this for you!
Description
---
Found Photos of Yellowstone showcases more than 200 photographs made by park visitors and employees from 1880 to 1940. These candid snapshots reveal hidden moments in the park's history, including never-before-seen views of lodging, transportation, recreation, wildlife, and summer jobs. The photos were "found" by long-time Yellowstone photographer Michael Francis, who has collected more than 11,000 historic Yellowstone images. Each photo in this book was curated by noted Yellowstone historian Lee Whittlesey, who co-wrote the captions with award-winning writer Amy Grisak. These images will surprise and delight anyone who loves Yellowstone. They demonstrate how much Yellowstone has changed--and yet remains the same Wonderland as that witnessed by visitors and employees more than a century ago.
About the Author
---
Michael H. Francis is a recently retired wildlife photographer based out of Billings, Montana. He has thirty-five single-photographer books to his credit including, Yellowstone Memories: 30 Years of Photographs & Stories, Watching Yellowstone & Grand Teton Wildlife, and Yellowstone Bears In The Wild, all published by Riverbend Publishing. Mike worked in Yellowstone National Park for 15 seasons and during that time became interested in park history and collectibles, such as the many souvenirs found in the general stores and gift shops. Since 1974 he has collected thousands of historic images of the park, most of which have never been seen by the public. He is anxious to share these rare images with the world. Michael can be contacted at michael@michaelfrancisphoto.com Freelance writer Amy Grisak began her media career carrying gear--and serving as sound recordist and associate producer--for nearly ten years while working on programs for National Geographic Television. Her introduction to Yellowstone National Park was during the filming of "Yellowstone: Realm of the Coyote," where she reveled in the unparalleled wildlife opportunities and fascinating geology. Grisak eventually transitioned from television to freelance writing, pairing her nature photography with her stories and essays for the Great Falls (Montana) Tribune and other regional and national publications. She is the author of Nature Guide to Glacier and Waterton National Parks and an active member in the Outdoor Writers Association of America. When she's not writing, Grisak co-hosts Front Range Outdoors, a Great Falls radio program where she discusses the wide range of outdoor recreation throughout Montana. As soon as the snow recedes in the spring, Amy is on the trails with her two sons or fishing with her husband near their Great Falls' home. She loves exploring the stunning landscape she is blessed to call home. Follow her work at amygrisak.com. Lee Whittlesey's forty-five-year studies in the history of the Yellowstone region have made him an expert on Yellowstone's vast literature and have resulted in numerous publications. He is the author, co-author, or editor of sixteen books and more than fifty journal articles, including the forthcoming "This Modern Saratoga of the Wilderness" A History of Mammoth Hot Springs (2021); and Stagecoaching Through Yellowstone (2021). He recently published a new edition of his popular best-seller Death in Yellowstone (2014). Whittlesey served as Park Historian for the National Park Service at Yellowstone National Park for 25 years, and previously served in that park as Archivist, Ranger Naturalist/Interpreter, Law Enforcement Ranger, and in numerous other positions. He has a master's degree in history from Montana State University and a law degree (Juris Doctor) from the University of Oklahoma. Idaho State University conferred upon him an Honorary Doctorate of Science and Humane Letters, and Montana State University awarded him an honorary Ph.D. in history. Whittlesey has been featured on numerous television news broadcasts and documentaries about Yellowstone, including Ken Burns's PBS special, The National Parks: America's Best Idea. He is often interviewed on regional and local television. Whittlesey retired as Park Historian for the National Park Service at Yellowstone National Park in 2018. He now lives in the Livingston, Montana, area, where he continues to write about Yellowstone.