How Do You Live? (Hardcover)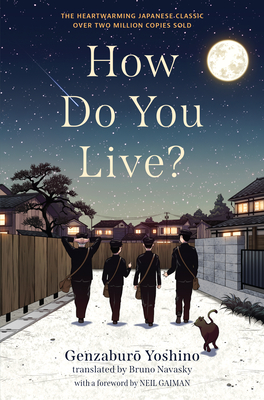 Description
---
The first English translation of the classic Japanese novel that has sold over 2 million copies—a childhood favorite of anime master Hayao Miyazaki (Spirited Away, My Neighbor Totoro, Howl's Moving Castle), with an introduction by Neil Gaiman.
 
First published in 1937, Genzaburō Yoshino's How Do You Live? has long been acknowledged in Japan as a crossover classic for young readers. Academy Award–winning animator Hayao Miyazaki has called it his favorite childhood book and announced plans to emerge from retirement to make it the basis of his final film. 
 
How Do You Live? is narrated in two voices. The first belongs to Copper, fifteen, who after the death of his father must confront inevitable and enormous change, including his own betrayal of his best friend. In between episodes of Copper's emerging story, his uncle writes to him in a journal, sharing knowledge and offering advice on life's big questions as Copper begins to encounter them. Over the course of the story, Copper, like his namesake Copernicus, looks to the stars, and uses his discoveries about the heavens, earth, and human nature to answer the question of how he will live.
 
This first-ever English-language translation of a Japanese classic about finding one's place in a world both infinitely large and unimaginably small is perfect for readers of philosophical fiction like The Alchemist and The Little Prince, as well as Miyazaki fans eager to understand one of his most important influences.
About the Author
---
Genzaburō Yoshino (1899-1981) was a Japanese writer and publisher. In 1935, he became director of a collection of educational books for young people. Yoshino stepped in to write How Do You Live? when Yūzō Yamamoto, the expected writer, fell ill. Since its debut as a novel and guide to philosophy for young people, How Do You Live? has been re-edited and republished more than eighty times, a reflection of the changing times and culture in Japan.

Bruno Navasky is a teacher and writer, whose work as a translator and editor includes Festival in My Heart: Poems by Japanese Children and Poem in Your Pocket for Young Poets. He was the founding editor of American Poet, the journal of The Academy of American Poets, where he now serves on the board of directors. He lives and works in New York City.

Neil Gaiman is the author of many bestsellers for readers of all ages, including Stardust (the basis for the blockbuster movie), Fragile Things, Anansi Boys, Interworld, and Coraline. He lives in Minneapolis, Minnesota.
 
Praise For…
---
A New York Times Bestseller
An Indie Bestseller

"All classic children's books are works of philosophy in one sense or another. But few classics for young readers are as entirely philosophical and contemplative, as engineered to instruct, as Genzaburo Yoshino's How Do You Live? . . . not easily forgotten. . . Some may feel, as this reader did upon closing it, inclined to affirm an unusual truth: 'I am wiser for having read this book.'" 
—Adam Gopnik, The New York Times Book Review

"A heartwarming and empathetic text engineered to help kids comprehend the world around them and their places in it . . . Like the best Miyazaki films, [the] lessons are often deceptively simple, but they have implications for every person who comes of age through adversity." 
—Vulture

"How Do You Live? is that rare thing, especially in YA: a shamelessly philosophical novel, starting with its interrogative title. It asks its young readers to think about the person they want to be, and its adult readers to reflect on the person they've become."
—Wired

"A teen ponders the complexities of life, history, and humanity in this 1937 classic from Japan being animated by Hayao Miyazaki . . . Simple and beautiful seasonal details reflect Copper's emotional journey. Small glimpses into prewar Japanese life and culture, including tofu making, school social hierarchies, city life, and the intricacies and symbolism of words, contribute to the atmosphere. A foreword by Neil Gaiman perfectly captures the mood and significance of this book, a childhood favorite of Miyazaki's and one that is sure to find a select, but eager, readership outside its homeland. A quiet, introspective look at life and how to be human."
—Kirkus Reviews (starred review)

"[A] deeply thoughtful Japanese classic . . . A gentle tale of self-discovery and reflection, and a compassionate guidebook on integrity punctuated by rich sensory details . . . Yoshino's timeless lessons will resonate with sensitive readers young and old."
—Publishers Weekly (starred review)

"Thoughtful and hopeful in the vein of classic children's literature. [An] excellent translation, providing insight into Miyazaki's works."
—Anime News Network

"Important, worthwhile, and surprisingly of-the-moment."
—Asian Review of Books

"A beguiling . . . and ruminative coming-of-age tale . . . to excite interest and—happily—inspire thought."
—Booklist

"Now is the perfect time for the translation of this novel and an even better time for today's youth to give it a read. This book guides your way of living toward the right path."
--Shelf Unbound

"A thought-provoking coming of age novel that teaches children how to navigate through life…beautiful…engaging."
—YA Books Central

 

A New York Times Bestseller
An Indie Bestseller

"All classic children's books are works of philosophy in one sense or another. But few classics for young readers are as entirely philosophical and contemplative, as engineered to instruct, as Genzaburo Yoshino's How Do You Live? . . . not easily forgotten. . . Some may feel, as this reader did upon closing it, inclined to affirm an unusual truth: 'I am wiser for having read this book.'" 
—Adam Gopnik, The New York Times Book Review

"A heartwarming and empathetic text engineered to help kids comprehend the world around them and their places in it . . . Like the best Miyazaki films, [the] lessons are often deceptively simple, but they have implications for every person who comes of age through adversity." 
—Vulture

"How Do You Live? is that rare thing, especially in YA: a shamelessly philosophical novel, starting with its interrogative title. It asks its young readers to think about the person they want to be, and its adult readers to reflect on the person they've become."
—Wired

"A teen ponders the complexities of life, history, and humanity in this 1937 classic from Japan being animated by Hayao Miyazaki . . . Simple and beautiful seasonal details reflect Copper's emotional journey. Small glimpses into prewar Japanese life and culture, including tofu making, school social hierarchies, city life, and the intricacies and symbolism of words, contribute to the atmosphere. A foreword by Neil Gaiman perfectly captures the mood and significance of this book, a childhood favorite of Miyazaki's and one that is sure to find a select, but eager, readership outside its homeland. A quiet, introspective look at life and how to be human."
—Kirkus Reviews (starred review)

"[A] deeply thoughtful Japanese classic . . . A gentle tale of self-discovery and reflection, and a compassionate guidebook on integrity punctuated by rich sensory details . . . Yoshino's timeless lessons will resonate with sensitive readers young and old."
—Publishers Weekly (starred review)

"Thoughtful and hopeful in the vein of classic children's literature. [An] excellent translation, providing insight into Miyazaki's works."
—Anime News Network

"Important, worthwhile, and surprisingly of-the-moment."
—Asian Review of Books

"A beguiling . . . and ruminative coming-of-age tale . . . to excite interest and—happily—inspire thought."
—Booklist

"Now is the perfect time for the translation of this novel and an even better time for today's youth to give it a read. This book guides your way of living toward the right path."
--Shelf Unbound

"A thought-provoking coming of age novel that teaches children how to navigate through life…beautiful…engaging."
—YA Books Central