Adventures of a Young Naturalist: The Zoo Quest Expeditions (Paperback)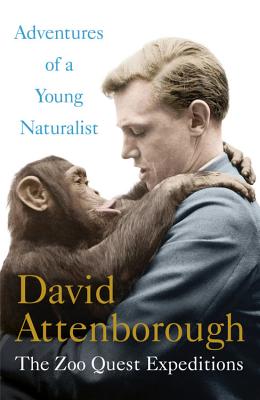 Description
---
"A GREAT BOOK." --THE NEW YORK TIMES
"MARVELOUS." --THE TELEGRAPH
"A RARE GLIMPSE OF A FLEDGLING DAVID ATTENBOROUGH IN THE WILD." --VANITY FAIR

Living legend and presenter of BBC's Planet Earth series Sir David Attenborough tells the story of his early career as a broadcaster and a naturalist in his own words.
In 1954, David Attenborough, a young television presenter, was offered the opportunity of a lifetime--to travel the world finding rare and elusive animals for the London Zoo's collection, and to film the expedition for the BBC for a new show called
Zoo Quest.
This is the story of those voyages. Staying with local tribes while trekking in search of giant anteaters in Guyana, Komodo dragons in Indonesia, and armadillos in Paraguay, he and the rest of the team contended with cannibal fish, aggressive tree porcupines, and escape-artist wild pigs, as well as treacherous terrain and unpredictable weather, to record the incredible beauty and biodiversity of these regions.
Written with his trademark wit and charm,
Adventures of a Young Naturalist
is not just the story of a remarkable adventure, but of the man who made us fall in love with the natural world and taught us the importance of protecting it--and who is still doing so today.
About the Author
---
Sir David Attenborough is a broadcaster and naturalist whose television career is now in its seventh decade. After studying Natural Sciences at Cambridge and a brief stint in publishing, he joined the BBC. Since the launch of his famous Zoo Quest series in 1954, he has surveyed almost every aspect of life on earth and brought it to the viewing public. His latest program, Planet Earth II, was the most watched nature documentary of all time.
Praise For…
---
"Attenborough relates his adventures of sixty years ago with typical British wit . . . This is a great book for anyone who wants to vicariously travel like an old-fashioned adventurer and seeks to understand how far we have come in developing a protective attitude toward wildlife."—
Frans de Waal, The New York Times
"Everyone who enjoys wildlife programming on television owes a debt of gratitude to David Attenborough. Attenborough--zoologist by training, TV man by profession--pioneered the concept over sixty years . . . He went out in the field, lived in the jungle for weeks at a time, and wrestled everything from caimans to boa constrictors . . . His new memoir,
Adventures of a Young Naturalist
, collects accounts of three of his first trips into the wilderness, stories that amaze and fascinate."
—
Curt Schleier, Minneapolis Star Tribune
"A rare glimpse of a fledgling David Attenborough in the wild."
—
Sloane Crosley, Vanity Fair
"A marvelous book, an invaluable record of David Attenborough's first three journeys . . . What makes this elegant book so unputdownable is that Attenborough makes the viewer feel inside the picture, part of his team . . . On the page, as on the screen, he shares, shows, explains. His style is disarmingly self-deprecating, utterly engaging."—
Telegraph
"
An elegant and gently funny writer
."
—
The Times
"One of the last of the pith-helmeted, noble British adventurers, he tells a host of wondrous tales set in the last years of the crumbling British Empire and he tells them beautifully . . . His writing is as impressive and as enjoyable as his TV programs and there can be no higher praise."—
Daily Express
Praise for David Attenborough
"A great educator as well as a great naturalist."
—
President Barack Obama
"When I was a young boy, I used to love turning on the television and watching [Attenborough's] programs and really feeling like I was either back out in Africa or I was learning about something magical and almost out of this planet."—
Prince William, Duke of Cambridge
"[Attenborough] is a wizard of television, and, like Gandalf or Dumbledore, he has a near-magical gift for combining warmth and gravitas."—
Louis Theroux, award-winning BBC documentary filmmaker