Fire From the Sky (Hardcover)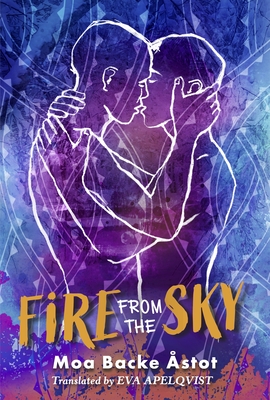 $19.99

Coming Soon - Available for Pre-Order Now
Description
---
Ánte's life has been steeped in Sami tradition. It is indisputable to him that he, an only child, will keep working with the reindeer. But there is something else too, something tugging at him. His feelings for his best friend Erik have changed, grown into something bigger. What would people say if they knew? And how does Erik feel? And Erik's voice just the push of a button away. Ánte couldn't answer, could he? But how could he ignore it? Fire From the Sky is a sharp and intelligent story about heritage, family ties and age-old commitments to the past. But also about expectations, compassion, feelings that course through your body like electricity.
About the Author
---
Moa Backe Åstot, born in 1998 in Malmberget, is Sami and a reindeer owner. She has studied creative writing at Umeå University and Jakobsberg Folk School's well-regarded creative writing program. She has received a number of awards for her writing, among them one from Sveriges Radio in 2018 for her short story, "A Small Red Drop." She lives in Jokkmokk. Fire From the Sky is her debut novel.

In addition to being a writer and a translator, with children's and young adult books published in the United States and Sweden, Eva Apelqvist has worked with many different aspects of book creation and distribution, among them, a publishing house, a library and an independent bookstore. Her latest translation is the young adult novel Fire from the Sky by Swedish author Moa Backe Åstot. The setting for the novel is northern Sweden, north of the Arctic Circle, which is, interestingly, the very area where her parents grew up and a place that she often visited growing up. Eva lives in Duluth, Minnesota, with an office overlooking the majestic Lake Superior.
 
Praise For…
---
[STAR] "A rare and triumphant look at what it means for queerness to stay put, with all the messiness and pain that entails… A fresh voice and a setting that's pure fire." – Kirkus Reviews (starred)