The Last Englishmen: Love, War and the End of Empire (MP3 CD)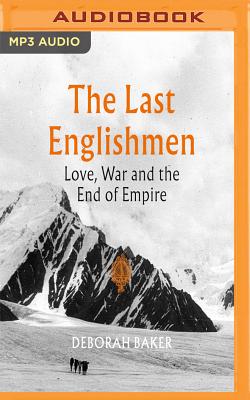 Description
---
John Auden was a pioneering geologist of the Himalayas. Michael Spender was the first to survey the northern approach to the summit of Mount Everest. While their younger brothers - W. H. Auden and Stephen Spender - achieved literary fame, they vied for a place on an expedition that would finally conquer Everest, a quest that had become a metaphor for Britain's efforts to maintain power over India. To this rivalry was added another: in the summer of 1938 both men fell in love with a painter named Nancy Sharp. Her choice would determine each man's wartime loyalties.
From Calcutta to prewar London to the snowy slopes of Everest, The Last Englishmen tracks a generation obsessed with a romantic ideal. As political struggle rages in Spain, the march to war with Germany seems inevitable, Communist spies expand their ranks and the fight for Indian independence enters its final bloody act, writers and explorers, Englishmen and Indians must pick their cause.
The Last Englishmen is an engrossing story that traces the end of empire and the stirring of a new world order. It encourages us to look again at our national story, to seek out the viewpoints of those on the other end of unchecked power and to question our own mythologies.