Women of Westminster: The Mps Who Changed Politics (MP3 CD)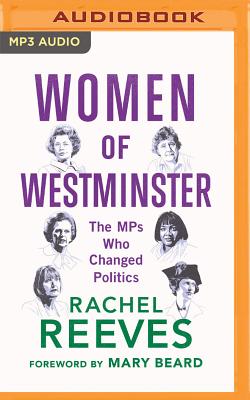 Description
---
In 1919 Nancy Astor was elected as the Member of Parliament for Plymouth Sutton, becoming the first woman MP to take her seat in the House of Commons. Her achievement was all the more remarkable given that women (and even then only some women) had only been entitled to vote for just over a year.
In the past 100 years, a total of 489 women have been elected to Parliament. Yet it was not until 2015 that the total number of women ever elected surpassed the number of male MPs in a single parliament. The achievements of these political pioneers have been remarkable - Britain has now had two female Prime Ministers, and women MPs have made significant strides in fighting for gender equality, from the earliest suffrage campaigns to Barbara Castle's fight for equal pay to Harriet Harman's recent legislation on the gender pay gap. Yet the stories of so many women MPs have too often been overlooked in political histories.
In this audiobook, Rachel Reeves brings many forgotten MPs out of the shadows and looks at the many battles fought by the women of Westminster, from 1919 to 2019.