Browning .50-caliber Machine Guns (Weapon) (Paperback)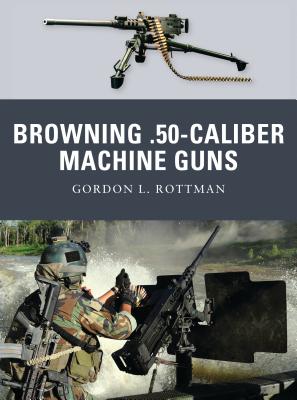 Other Books in Series
This is book number 4 in the Weapon series.
Description
---
Osprey's new Weapon series provides a highly-detailed yet affordable overview of the development, use, and impact of small arms throughout history-from the sword to the machine gun.

In this volume, Gordon Rottman examines this history of the longest serving weapon in the U.S. military's small arms inventory. Thoroughly researched and illustrated with rare photographs and original artwork by Johnny Shumate, the book takes readers from the origins of the "fifty" on the battlefields of World War I (1914-1918) to its use in the war on terror today. Rottman provides lists of the companies that manufactured the Browning and analyzes the variants that have arisen over the years since it first entered service in 1933. He also provides descriptions and photos of how it was used on aircraft, ships, riverboats, tanks, Humvees, and by ground forces. A cutaway illustration from Alan Gilliland details the parts of the weapon and a final chapter dispels myths told about it.
About the Author
---
Gordon L. Rottman entered the US Army in 1967, volunteered for Special Forces and completed training as a weapons specialist. He served in the 5th Special Forces Group in Vietnam in 1969–70 and subsequently in airborne infantry, long-range patrol and intelligence assignments until retiring after 26 years. He was a Special Operations Forces scenario writer at the Joint Readiness Training Center for 12 years and is now a freelance writer, living in Texas.

Johnny Shumate works as a freelance illustrator living in Nashville, Tennessee. He began his career in 1987 after graduating from Austin Peay State University. Most of his work is rendered in Adobe Photoshop using a Cintiq monitor. His greatest influences are Angus McBride, Don Troiani, and Édouard Detaille.
Praise For…
---
"This book provides you with the history of its development and its various important operational uses. But more interestingly, it puts you on the front lines of war see firsthand how a fighter pilot un-jams and re-cocks a wing-mounted machine gun. You get to witness through the author's own personal experiences of how he used the 'fifty' during the Vietnam War. He brings to the life the devastating effects of an armor-piercing round fired from a Humvee." —www.mataka.org (November 2010)