Ten Global Trends Every Smart Person Should Know: And Many Others You Will Find Interesting (Hardcover)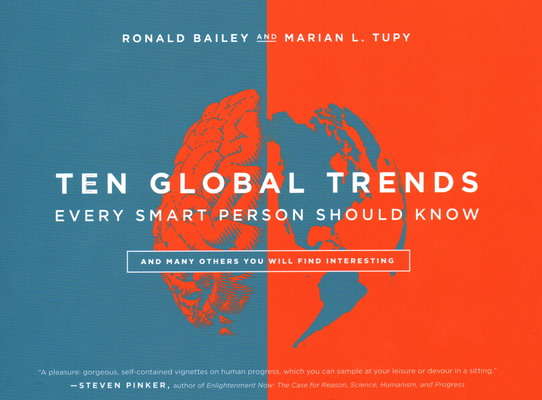 $24.95

We can order this for you!
Description
---
"I would say that learning this material ... has lifted some of the existential weight from me. Things aren't as bad as they are trumpeted to be. In fact, they're quite a bit better, and they're getting better, and so we're doing a better job than we thought. There's more to us than we thought. We're adopting our responsibilities as stewards of the planet rapidly. We are moving towards improving everyone's life." --Jordan B. Peterson, Beyond Order: 12 More Rules for Life Think the world is getting worse? You're wrong: the world is, for the most part, is getting better. But 58 percent of people in 17 countries that were surveyed in 2016 thought the world is either getting worse or staying the same rather than getting better. Americans were even more glum: 65 percent thought the world is getting worse and only 6 percent thought it was getting better. The uncontroversial data on major global trends in this book will persuade you that this dark view of the prospects for humanity and the natural world is, in large part, badly mistaken.World population will peak at 8 to 9 billion before the end of this century as the global fertility rate continues its fall from 6 children per woman in 1960 to the current rate of 2.4. The global absolute poverty rate has fallen from 42 percent in 1981 to 8.6 percent today. Satellite data show that forest area has been expanding since 1982. Natural resources are becoming ever cheaper and more abundant. Since 1900, the average life expectancy has more than doubled, reaching more than 72 years. Of course, major concerns such as climate change, marine plastic pollution, and declining wildlife populations are still with us, but many of these problems are already in the process of being ameliorated as a result of the favorable economic, social, and technological trends that are documented in this book.You can't fix what is wrong in the world if you don't know what's actually happening. Ten Global Trends Every Smart Person Should Know will provide busy people with quick-to-read, easily understandable, and entertaining access to surprising facts that they need to know about how the world is really faring.
About the Author
---
Ronald Bailey is the science correspondent for Reason, where he writes a weekly science and technology column. Bailey is the author of the book The End of Doom: Environmental Renewal in the Twenty-first Century (Thomas Dunne Books, 2015) and Liberation Biology: The Moral and Scientific Case for the Biotech Revolution (Prometheus, 2005), and his work was featured in The Best American Science and Nature Writing 2004. Marian L. Tupy is the editor of HumanProgress.org and a senior policy analyst at the Center for Global Liberty and Prosperity. He specializes in globalization and global well-being, and the political economy of Europe and sub-Saharan Africa. His articles have been published in the Financial Times, Washington Post, Los Angeles Times, Wall Street Journal, U.S. News and World Report, The Atlantic, Newsweek, The U.K. Spectator, Weekly Standard, Foreign Policy, Reason magazine, and various other outlets both in the United States and overseas.